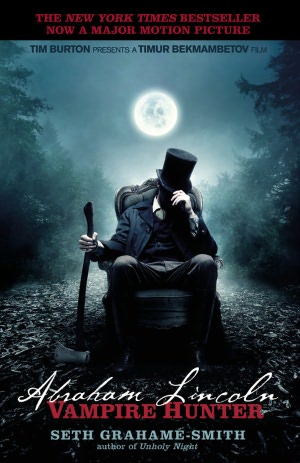 Synopsis:
Indiana, 1818. Moonlight falls through the dense woods that surround a one-room cabin, where a nine-year-old Abraham Lincoln kneels at his suffering mother's bedside. She's been stricken with something the old-timers call "Milk Sickness."

"My baby boy..." she whispers before dying.

Only later will the grieving Abe learn that his mother's fatal affliction was actually the work of a vampire.

When the truth becomes known to young Lincoln, he writes in his journal, "henceforth my life shall be one of rigorous study and devotion. I shall become a master of mind and body. And this mastery shall have but one purpose..." Gifted with his legendary height, strength, and skill with an ax, Abe sets out on a path of vengeance that will lead him all the way to the White House.

While Abraham Lincoln is widely lauded for saving a Union and freeing millions of slaves, his valiant fight against the forces of the undead has remained in the shadows for hundreds of years. That is, until Seth Grahame-Smith stumbled upon The Secret Journal of Abraham Lincoln, and became the first living person to lay eyes on it in more than 140 years.

Using the journal as his guide and writing in the grand biographical style of Doris Kearns Goodwin and David McCullough, Seth has reconstructed the true life story of our greatest president for the first time-all while revealing the hidden history behind the Civil War and uncovering the role vampires played in the birth, growth, and near-death of our nation.
My Review:
I'm not even sure where to begin with how much I love this book. A few months earlier I was at the movie theater going to watch some film that I can't even remember the name of and I saw a cardboard cut-out of Abraham Lincoln with an axe that read 'Abraham Lincoln: Vampire Hunter'. I stopped in my tracks and immediately thought
"Seriously? I wonder what Abraham Lincoln would think if he saw that."
Then I found out that it was based off of a book by Seth Grahm-Smith
But once I had gotten home I immediately logged onto Goodreads to check out what people were saying about the book. Apparently it was pretty awesome and people couldn't get enough of it. So I decided to keep an open mind and thought
'well it is a cool concept, original even.'
One day at the store I was lucky enough to pass by it and snatched it up so that I could read it before the movie came out.
Being a huge history buff I was extremely excited to read this book and especially because of the fact that it had vampires in it. I'm not a die hard vampire fan, I used to be one in the pre-twilight era liking blood-suckers like Nesfaratu and Dracula.
This book was a beautifully woven tale of well researched history intricately embroidered with a vampire tale. The history of the book was surprisingly almost like a biography if you didn't count the journal entries and vampire theme. Smith brought Honest Abe to life in this book and made him so real and admirable. I hadn't even been three chapters into the book when I started to really like Abraham Lincoln more because of the book. The introduction of the book that wasn't part of the story was odd but once I went along with it it definitely was ingenious. One thing is for sure, I definitely learned a lot about history after reading this book, especially about the Civil War and the history of slavery. The journal entries and pictures that were geniusly edited and photoshopped to put Abraham in scenes with vampires were my favorite parts of the book. They made the book more interactive and definitely made me laugh a few times. Though the book is told in third person narration Abraham's journal entries give insight to what Abraham was going through during his vampire hunting and presidential campaign, giving more depth to the overall story. Smith also undeniably has a talent for characterization and character build up. I loved the character Henry, he was very admirable and I instantly liked him as a character during his introduction into the story. You don't have to like vampires or history to love this book, it's definitely an original idea that is worthy of all of the rave and attention it is receiving. Smith definitely has a gift for story telling and I definitely am going to check out his other books.
I liked the movie, however the book is WAY better, even though I absolutely love Tim Burton.